Abbiamo disponibili datasheet di tutti i componenti, qualora non fosse presente nella scheda download del prodotto inviaci un messaggio dal modulo contattaci e lo pubblicheremo il prima possibile nel nostro sito.

2PCS 16MM 40MHz ultrasonic transceiver, the ultrasonic sensor ultrasonic probe, TCT40-16R / T (diameter 16mm) (Price per suit 2pcs)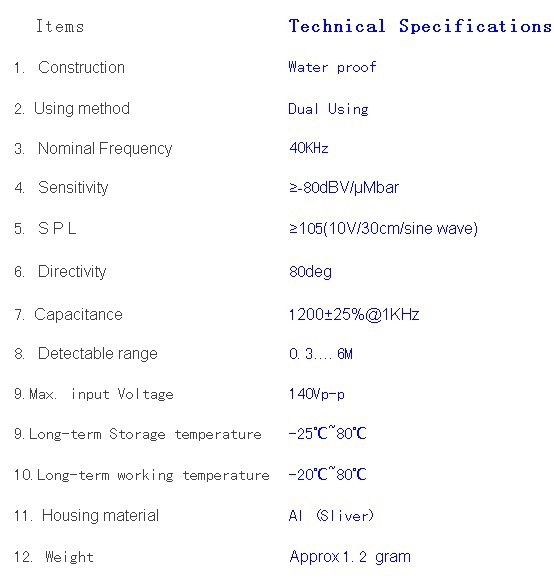 16mm sub- body ultrasonic transceiver / ultrasonic sensor / ultrasonic probe
 Model: TCT40 - 16R / T ( diameter 16mm )

(1). nominal frequency ( KHz) : 40KHz

(2) Emission sound pressure at10V (0dB = 0.02mPa): ? 117dB

(3) Receive sensitivity at40KHz (0dB = V / ubar): ?-65dB

Electrostatic capacity at1KHz , < 1V ( PF) : 2000 ± 30 %
As a receiver , a transmitter , send and receive split , T is the launch , that does not buy parts for sale, R is the receiver to send and receive .

T words fired head , marked with the word R is receiving head
Part number             NU25C16T-1    
Using Method           Transmitter   
Construction            Open structure type   
Center frequency        40.0±1.0KHz      
Sound pressure level    112dB min.   
Sensitivity       
Capacitance             2400Pf±20%   
Maximum input voltage   60Vp-p    
Directivity             60°±15° (-6dB)   
Operating temperature   -20°C~+70°C   
Storage Temperature     -40°C~+85°C
Weight                 2.2g